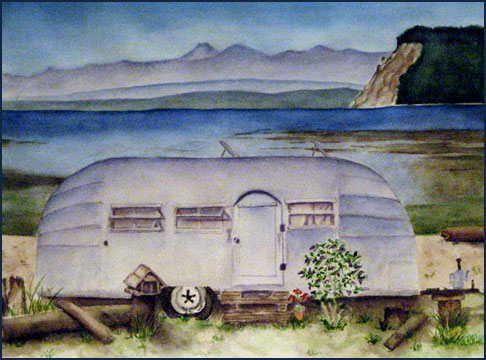 Islander Herbs began in 1994, and after many successful seasons, the owners decided to sell.  In the summer of 2001, they found Laura Fitzgerald selling her Useless Bay Rub #13 at the Tilth Farmers Market.  She was making a shift in careers after being a victim of the dot.com fallout and making the long commute to Seattle.  This new venture appealed to her cooking creativity because of the uniqueness of these particular specialty jams and jellies. She liked the idea of the commercial kitchen housed in a 1948 Airstream trailer, the chance to develop new products pairing fruit and peppers and to enjoy sharing a gourmet delight that does not compete with local jam makers.
As Laura expanded her sales, but continued to value quality by hand stirring small batches, Jim Freeman, MC/Conductor of Fun, nicknamed her Jammin' Laura. Living up to her name, she enthusiastically experiments and creates new homemade products, which reflect the natural flavors of the freshest fruits from the Great Northwest.
In 2004, Jammin' Laura asked Lopez Larry Soon to be Famous Gourmet Sauces to mentor her, since he had been selling his products for years. They developed a special relationship and together began marketing their products at art and craft festivals and in specialty stores throughout the Puget Sound area.
Then in 2015, due to health issues, Lopez Larry was no longer able to continue the business. He taught Jammin' Laura how to make his gourmet sauces so his unique sauces could continue to be enjoyed by so many.
~  Larry Vetter  ~
February 16th, 1950 – August 26th, 2017
"Life Tribute for Larry Vetter"
On August 26th, after enjoying 67 years of food, fellowship, and fun, Larry Vetter, known throughout the Northwest as Lopez Larry, moved on to join his father Al in the Heavenly kitchen.
 Born in Independence, Missouri, on February 16th, 1950 to Mom Dottie and Dad Al, Larry was a joy-filled young boy learning from his parents all about cooking, cleaning, and running a kitchen after moving to Downey, California in 1955.
 Larry's chef experiences begin in his teen years when his family began operating a fast food drive-in. When Larry was not playing soccer and surfing at Huntington Beach, he was flipping burgers and making traditional burritos for the customers. As Larry would say: "Cook down the meat and burn down the bone."
 After graduating from high school, Larry served our country in the U.S. Army in the area of military intelligence. After Larry's honorable discharge during the Vietnam War, he served as an EMT before beginning his two decade career as a chef in four- and five-star restaurants.
 Working in high-end steak houses throughout the Western United States, Larry shared his talents creating quality cuisines. With his love of travel and people, he would move about from one location to another, using the menu from his last restaurant as his resumé. It worked every time. Larry always got hired.
 After discovering Lopez Island, Larry hung up his chef's apron for a few months to begin a landscaping business. However, when he was not in the garden, Larry was back with his apron, making his unique sauces to sell at the local farmers markets. After several months, Larry realized that his life-long skills could be better utilized by focusing on his cooking. So, with his perennial smile and signature hat, "Lopez Larry's Soon To Be Famous Mustard Sauces" were born. That was almost thirty years ago.
 When Larry wasn't cooking gourmet dinners for his friends, after a busy summer season, and before the holidays, Larry would head to eastern Washington for more fun around the campfire, cooking the day's catch of fresh fish while sharing classic stories.
 Any musicians who ever played the Loganberry Festival at the Greenbank Farm on Whidbey Island will recall Larry's smiles and post-concert gift baskets of mustard for the performers. Never at a loss for words, Larry enjoyed sharing his talents with the talented.
 Larry is survived by his loving mother, Dottie Vetter of Burbank, California; brother Tom Vetter and sister-in-law Dee, also of Burbank, California; Uncle Tom and Aunt Barbara of San Juan Capistrano, California, and Laura Fitzgerald, Larry's life long companion, of Langley, Washington. Thankfully, Larry got to live out his wish to stay at home with Laura as his primary caregiver, and also with the wonderful and excellent support of two magnificent teams – Whidbey Health Home Health and Whidbey Health Hospice Care.