Recipes
NEW Cascade Harvest Blend
Sprinkle. Rub. Grill, Broil, Bake or Saute: Fish, Fowl, Meats or Veggies!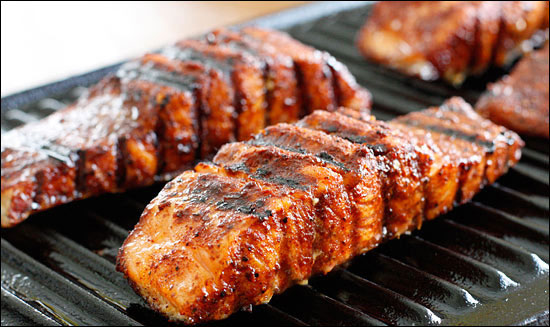 Useless Bay Rub #13 Recipes
Chicken: Take 2 split chicken breast. Drizzle olive oil, then sprinkle with seasoning (generously for more flavor). Put in a covered baking dish. Bake at 375º for 30-40 minutes, or until cooked. Can also be barbecued or broiled. Option for garlic lovers: add sliced fresh garlic. Try on pork and steaks and cook your usual way.
Rub & Suds Chicken: Take a whole chicken fryer and coat with oil first. Then rub with the Useless Bay Rub. Take a half of can of beer and lower the chicken on to it. Fold back the top legs. BBQ over indirect heat at about 325º for about 20 minutes a pound. If the chicken starts to turn too brown you can place foil over the top of it. You can add your favorite BBQ sauce towards the end if you like. The chicken will come out so moist that you will not believe it. Enjoy! You can also bake this chicken in the oven too when the weather is bad!
Salmon, Snapper or other fish: Filets or whole. Lay fish in foil. Squeeze lemon (as much as you like), drizzle with olive oil & sprinkle with seasoning. Wrap foil packet. Either barbecue or bake in a 375º oven until done. Great on broiled Halibut.
Pepper Jelly Drawn Butter
Add a snappy bite to your rich steamed crab by stirring in a couple of tablespoons of either Green or
Red Pepper Jelly (warmed in the microwave a few seconds) to drawn butter. Play around with the proportions based on your own personal taste. Delicious!
---
Smoke Salmon Dip
Crumble 6 oz. smoked salmon in a bowl. Add 1 cup sour cream or 8 oz cream cheese and 2Tbsp Cascade Harvest Blend mix. Chill 2-24 hours. Serve with crackers and/or vegetables.
---
Pepper Jelly Cheesecake
8 oz. pkg. Cream Cheese
1 Egg
2 tsp minced Garlic
5 oz. grated Sharp Cheddar Cheese
Jar of Pepper Jelly
Combine the first 4 ingredients in a food processor. Add 4 oz. of Pepper Jelly. Pour into an oiled spring
form pan. Bake in a 350º oven for 30 min., along with a pan of water to keep the cake moist. Cool completely. Top with remaining jelly.
---
Uses & Recipes for Lopez Larry's Mustard Sauces
Use your favorite Lopez Larry's Mustard Sauce as a dip straight from the jar. Try them with artichokes, broccoli, asparagus, cauliflower, carrots, cheese, pickles, crab, shrimp, jicama, chicken or meat.
Lopez Larry's Mayo Swap
Next time you're making your favorite potato salad, deviled eggs, tuna salad, shrimp or crab salad, substitute your favorite Lopez Larry's Mustard sauce for mayo.
---
Colville Rock Roll-ups
Flour tortillas
8 oz. softened cream cheese
1.5 lb. salad shrimp
1 bunch green onions, sliced
½ jar Lopez Larry's Dill Caper Mustard Sauce
Parsley
Lemon slices
Mix cream cheese with ½ jar of mustard sauce. Spread on a tortilla. Press shrimp and green onions into cream cheese. Roll up the tortilla into a log. Continue with rest of the torts. Put logs on a plate and cover with waxed paper. Refrigerate for at least 1 hour. Remove from reefer, slice into rounds. Arrange on plate and garnish with parsley sprigs and lemon slices.
This is simple, delicious, and always a hit.
---
Deluxe Shrimp
1 lb. shrimp (16-20 per lb), shelled
Lopez Larry's Mustard Sauce (any style)
½ lb. butter
Olive oil
Chopped parsley
In a large non-stick skillet, heat a couple of Tbsp. butter and olive oil. Get it hot, but not smoking. Add shrimp and cook quickly, stirring or tossing constantly until shrimp are pink. Do not overcook. Remove from heat and pour off excess oil. Reserve shrimp. Return skillet to low heat and melt remaining butter. When melted, remove skillet from heat and add 3 Tbsp. mustard sauce. Stir to blend. Place shrimp in a bowl and drizzle mustard-butter sauce over shrimp. Toss with chopped parsley. Great finger food!
---
Southend Salmon
12-16 oz. filet of salmon
8 oz. cream cheese, room temperature
Lopez Larry's Dill Caper Mustard Sauce
Mix 3-5 Tbsp. mustard sauce with the cream cheese. Slather this on the salmon. Bake at 425° until done (about 15 min). Don't overcook. Garnish with sprigs of fresh dill and lemon wedges. Looks great, tastes wonderful! This works great with halibut or ling cod.
---
Shrimp Rice Salad
1 cup cooked brown rice
1 green onions, chopped
1 cup mayonnaise
1 tsp. fresh grated ginger
1 tbsp. Lopez Larry's Dill Caper Mustard Sauce
Salt and pepper to taste
1 tbsp. lemon juice
1 ½ cups cooked shrimp
Mix the above ingredients together and refrigerate. When ready to serve, place on Romaine lettuce leaves and sprinkle with sesame seeds.
---
Dilled Carrots Sauté
1 Tbsp. olive oil
2 cups carrots, sliced diagonally
1 medium onion, sliced
1 cup white wine
2 Tbsp. Lopez Larry's Dill Caper Mustard Sauce
Pepper to taste
Sauté carrots and onion in olive oil for about 3 minutes. Combine rest of ingredients and pour over vegetables. Heat through and cook about two more minutes or until slightly crunchy (not soft).
---
Parmesan Crusted Mayo Chicken
4 boneless, skinless chicken breast
Salt & pepper
1 cup Smokey Chardonnay or Garlic Red Onion Mustard Sauce
1 cup Parmesan or cheese of choice
1 tsp Italian Seasoning
½ tsp garlic powder
Lightly grease 9×13" baking dish with non-stick cooking spray. Arrange the chicken breast in the prepared dish. Salt & pepper.
In a small mixing bowl, whisk together the mustard sauce, Parmesan cheese, Italian seasoning & garlic powder until combined.
Add the mixture in dollops evenly out over the chicken, using a spatula to cover the chicken completely. Bake at 400* for 20-25 minutes or until meat thermometer reads 165*. Loosely tent with foil if cheesy crust is browning too much. Remove chicken from dish and let rest 5 minutes.
---
Deviled Eggs
Hard boiled eggs, shells off
Bacon Bits (optinal)
Lopez Larry's Dill Caper Mustard Sauce
Dash garlic powder
Paprika
Cut eggs in half. Scoop out yolks. Mix in mustard sauce. A little mayonnaise can be added if desired. Add bacon bits and garlic powder. Fill egg cavities. Sprinkle with Paprika.
---
Blue Mignon
Filet Mignon (or other type of steak)
Bleu cheese or Gorgonzola
Lopez Larry's Smokey Chardonnay Mustard sauce.
Mix blue cheese and mustard sauce. Pour over grilled or broiled filet.
---
Now it's your turn!