Recipes
NEW Cascade Harvest Blend
Sprinkle. Rub. Grill, Broil, Bake or Saute: Fish, Fowl, Meats or Veggies!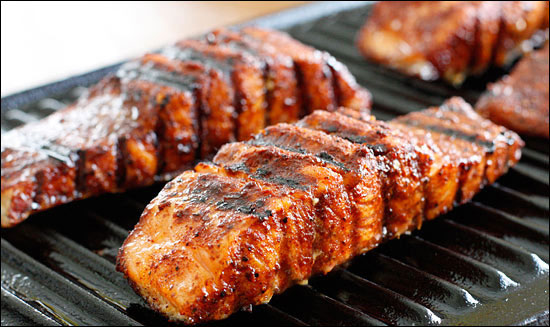 Useless Bay Rub #13 Recipes
Chicken: Take 2 split chicken breast. Drizzle olive oil, then sprinkle with seasoning (generously for more flavor). Put in a covered baking dish. Bake at 375º for 30-40 minutes, or until cooked. Can also be barbecued or broiled. Option for garlic lovers: add sliced fresh garlic. Try on pork and steaks and cook your usual way.
Rub & Suds Chicken: Take a whole chicken fryer and coat with oil first. Then rub with the Useless Bay Rub. Take a half of can of beer and lower the chicken on to it. Fold back the top legs. BBQ over indirect heat at about 325º for about 20 minutes a pound. If the chicken starts to turn too brown you can place foil over the top of it. You can add your favorite BBQ sauce towards the end if you like. The chicken will come out so moist that you will not believe it. Enjoy! You can also bake this chicken in the oven too when the weather is bad!
Salmon, Snapper or other fish: Filets or whole. Lay fish in foil. Squeeze lemon (as much as you like), drizzle with olive oil & sprinkle with seasoning. Wrap foil packet. Either barbecue or bake in a 375º oven until done. Great on broiled Halibut.
---
Pepper Jelly Drawn Butter
Add a snappy bite to your rich steamed crab by stirring in a couple of tablespoons of either Green or
Red Pepper Jelly (warmed in the microwave a few seconds) to drawn butter. Play around with the proportions based on your own personal taste. Delicious!
---
Smoke Salmon Dip
Crumble 6 oz. smoked salmon in a bowl. Add 1 cup sour cream or 8 oz cream cheese and 2Tbsp Cascade Harvest Blend mix. Chill 2-24 hours. Serve with crackers and/or vegetables.
---
Pepper Jelly Cheesecake
8 oz. pkg. Cream Cheese
1 Egg
2 tsp minced Garlic
5 oz. grated Sharp Cheddar Cheese
Jar of Pepper Jelly
Combine the first 4 ingredients in a food processor. Add 4 oz. of Pepper Jelly. Pour into an oiled spring
form pan. Bake in a 350º oven for 30 min., along with a pan of water to keep the cake moist. Cool completely. Top with remaining jelly.
---
Now it's your turn!